EV Charging with Statiq is Now More Rewarding with the 'List a New Charger' Feature 
Statiq, India's largest EV charging network, has unveiled an exciting new feature on its Statiq mobile app: "List a New Charger." This feature allows you to actively participate in expanding the EV charging network while earning 100 rupees in your Statiq wallet for every new charger listing, ready to be redeemed for your next charging session.
In this blog, we'll guide you through the seamless process of listing a charger on the Statiq app and how it transforms your EV journey into a more gratifying experience. It's time to discover the future of EV charging, where your contributions are not only valued but also rewarded.
Step-by-Step Process of "Listing a Charger" on the Statiq Mobile App
Before you begin listing a new charger on the Statiq app, ensure that your profile is complete. Users who have not completed their profile on the Statiq app are not eligible for this feature.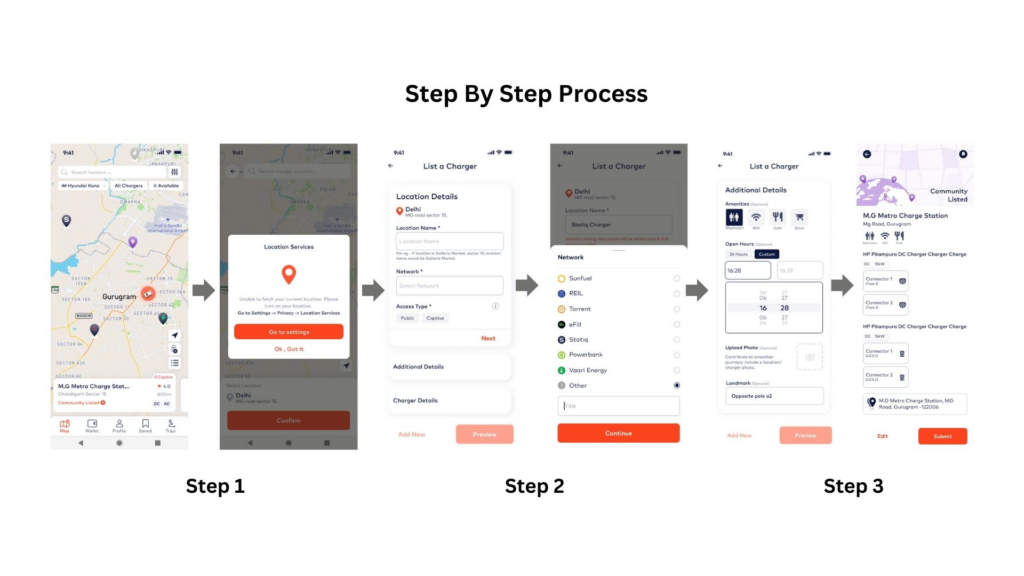 Open the Statiq app and click on the "List a Charger" icon located just below the Find Location icon.
If your GPS is enabled, the app will automatically detect your location. If not, a dialog box will appear on your phone, prompting you to enable your location. You can also adjust the location by dragging the pointer on the map to select the exact location.
Now, a screen will appear on your phone, asking you to provide details

Location Details

Location name
Network selection
Access type (Public/Captive)

Additional Details

Amenities
Open hours
Photo upload
Landmark

Charger Details

Charger type
Power output
Connector type
Fill in all the details correctly and upload an image from your gallery or take a photo using your camera.
Review all the details entered and then click on the Submit button.
Once you've entered all the necessary information, you've successfully listed a new charger on the Statiq network. As a token of appreciation for your contribution to the EV community, you'll receive 100 rupees credited to your Statiq wallet after the validation of your listing from our team. This reward can be redeemed when you use the Statiq mobile app to charge your electric vehicle.
By participating in this simple process, you not only enhance the availability of charging stations for the EV community but also enjoy added benefits through your Statiq wallet.
So, are you ready to be a part of this green revolution? Contribute to the growth of the EV charging infrastructure in India and earn rewards along the way with Statiq.
Happy Charging and Happy Rewarding!

Also Read, How you can start your EV charging automatically with Autocharge Feature.