Statiq Partners With MG Motor: Celebrating 100 Years of Driving Smiles
In the realm of automotive history, a century is a monumental milestone. It's a testament to enduring excellence, innovation, and a deep connection with customers. MG Motors has achieved just that as it marks its 100th Anniversary. On this momentous occasion, Statiq joins forces with MG to celebrate a century of innovation, style, and performance. 
Accelerating Automotive Excellence
With a legacy that spans a century, MG Motors has consistently delivered vehicles that blend elegance, performance, and innovation. Throughout its journey, MG has been more than just a car manufacturer; it has been a symbol of pride and joy for car enthusiasts around the world.
MG Motors has partnered with Statiq, a pioneering player in the electric vehicle (EV) charging infrastructure, to express their gratitude to the community that has stood by them through a century of evolution. Statiq is India's largest EV charging network providing an accessible, affordable, and reliable EV charging experience across India.
Enjoy 15% Cashback on Charging MG ZS EV
As MG Motors celebrates its 100th Anniversary, this partnership with Statiq serves as a way to express their heartfelt gratitude to their loyal customers.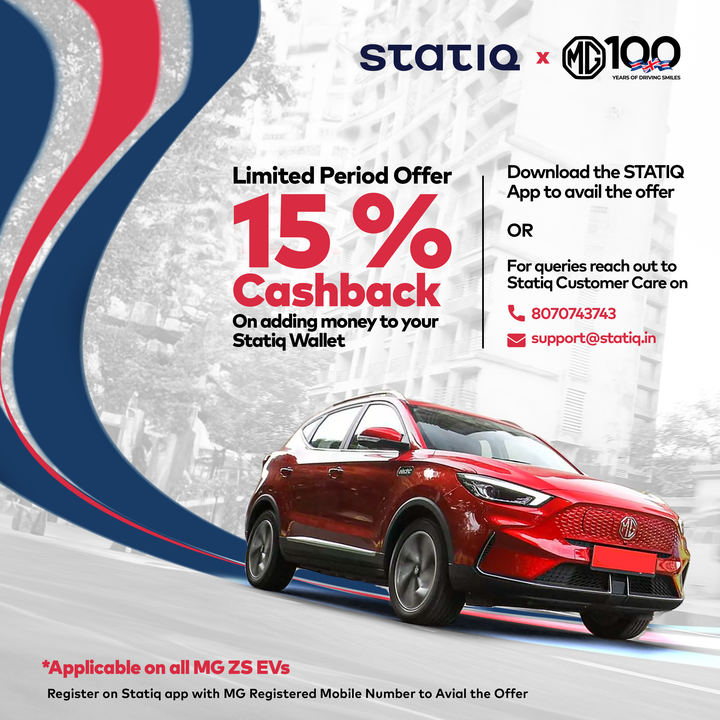 Offer Details
Enjoy a special preferential tariff, 15% Cashback on adding money to your Statiq wallet applicable on charging with Statiq Fast DC chargers only.
The offer applies to MG ZS EV customers only, as a gesture of our gratitude for your contribution to our journey.
How to Avail the Offer
Offer can be availed through the Statiq mobile application.
To avail this offer you need to log in to Statiq mobile app with the same number you have registered with MG.
For any queries regarding activation, reach out to Statiq Customer Care at "8070743743" or "support@statiq.in."
For further assistance, please reach out to your nearest MG Dealership.
#Staycharged with Statiq EV chargers
Also, Read this to know "How To Book EV Charging From The Statiq App?"