How To Book EV Charging From The Statiq App?
Range anxiety is one of the most common fears restraining electric vehicle owners from taking their EVs on long trips. It is also one of the main reasons that people refrain from switching to EVs. However, as electric vehicles (EVs) gain popularity, the need for an accessible and convenient charging infrastructure becomes increasingly important.
Thankfully, advancements in technology have made it easier than ever to find and book EV charging stations using mobile applications. Many startups have entered this domain with innovative solutions to provide a seamless EV charging experience and ease the range anxiety of EV owners. Statiq is one such leading EV charging service provider, with more than 1200+ public EV charging stations across India.
In this blog, you will learn how to book EV charging from the Statiq mobile app with a step-by-step guide to help you navigate the process.
Why Book EV Charging from the Statiq Mobile App?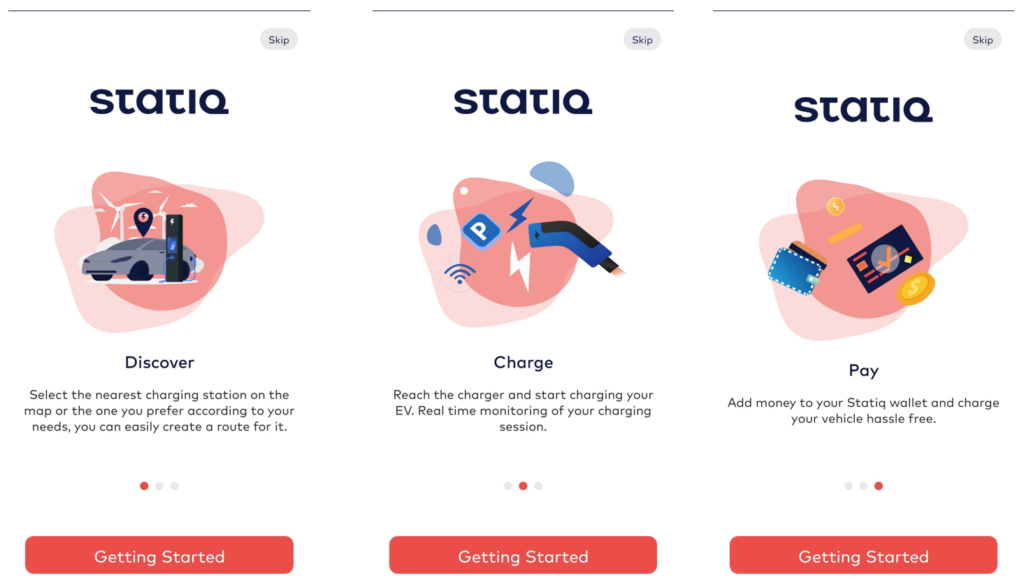 The availability of public charging stations allows you to enjoy a seamless EV journey wherever you go. Mobile applications have multiple benefits. It helps to locate EV charging stations, find available EV chargers, book charging sessions, and provide convenient payment options for charging services.
In fact, the Statiq mobile application has an additional feature, Trip Planner, that helps you locate nearby EV charging stations on your route. Here are some of the reasons why you should use Statiq mobile apps for charging:
Easy Accessibility: Statiq mobile applications provide a user-friendly interface that allows you to locate nearby charging stations at your fingertips. With real-time data and mapping features, you can easily find the nearest available charging station that suits your needs.
Efficient Planning: By using the Statiq EV charging app, you can plan your charging sessions ahead of time. This ensures that you have a spot reserved and minimizes the risk of arriving at a charging station only to find it occupied.
Payment Convenience: It offers integrated payment systems, allowing you to conveniently pay for your charging sessions within the app itself. This eliminates the need for physical payment methods or carrying multiple charging network cards.
Charging Status Updates: The Statiq EV charging app provides real-time updates on the charging progress, enabling you to monitor the status of your charging session remotely. You can receive notifications when your EV is fully charged or if any issues arise during the process.
Step-by-Step Guide to Book EV Charging From the Statiq Mobile App
Step 1: Download and Install the App
Search for the Statiq EV Charging app on Google Play Store if you have an Android device. Use Apple App Store if you have an iPhone. Download and install the app.
Step 2: Create an Account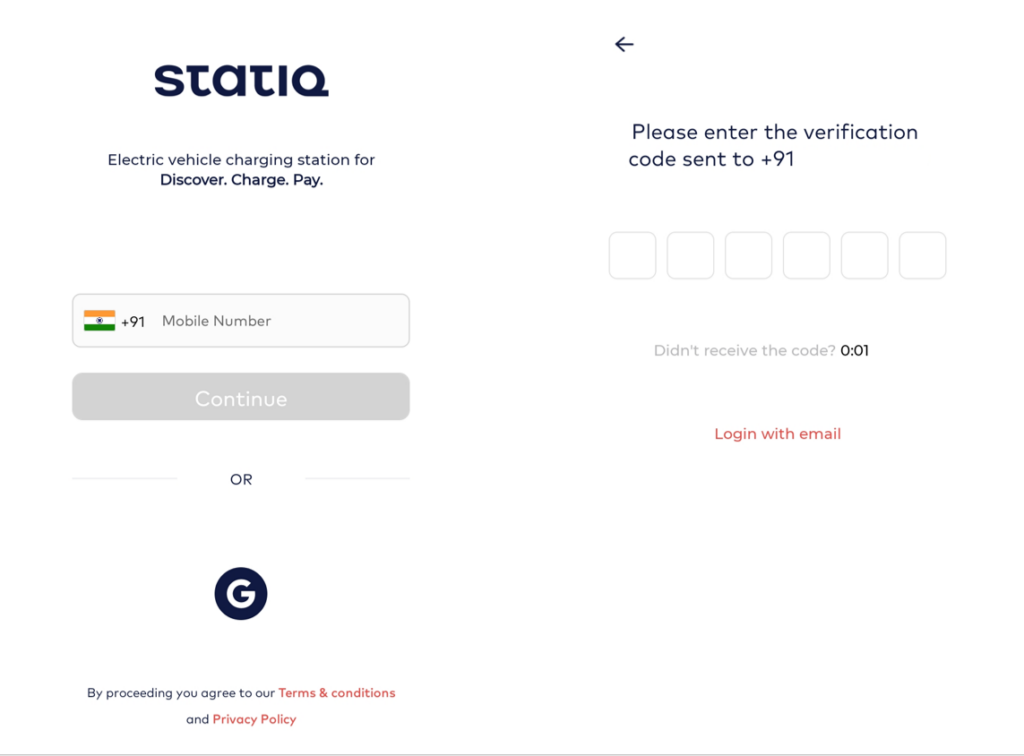 After installation open the app and create an account using your email address or mobile number. You will get an OTP on your mobile phone that you have to enter to verify your account.
Step 3: Find Nearby Charging Stations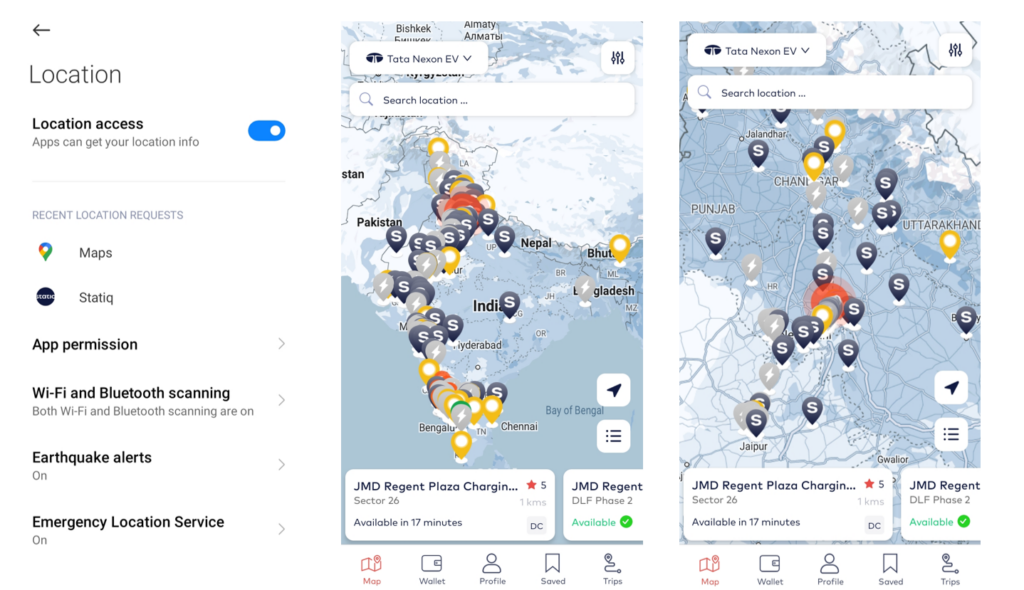 Allow the app to access your device's location to discover electric vehicle charging stations nearby. The app will display a map of available charging stations along with their relevant details, such as charger type, availability, charger locations, and ratings.
Step 4: Book a Charging Session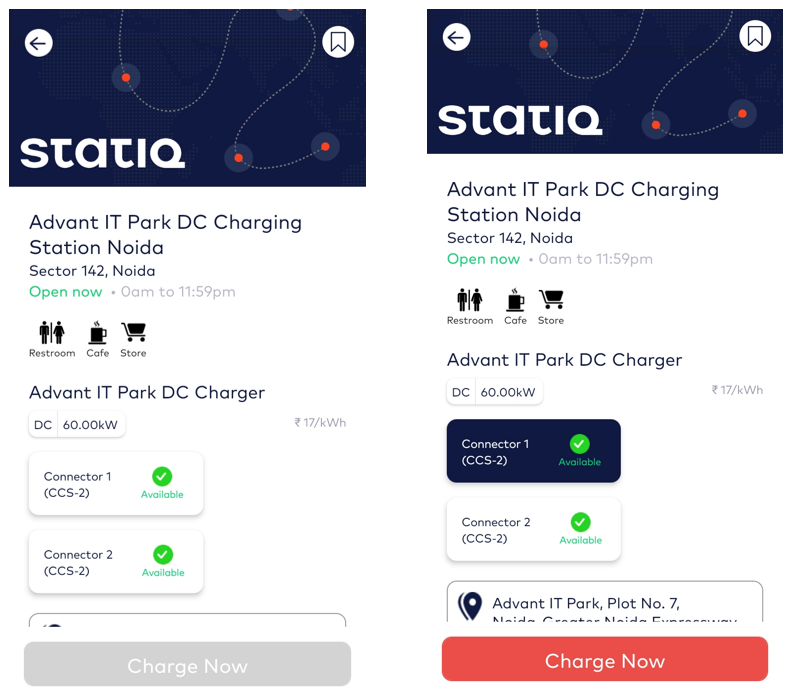 Select your EV model and then select the available charger type for your EV model to book the charging session. Follow the directions on the map to visit the available charging station.
Step 5: Start the Charging Session
Arrive at the charging station and initiate the charging session using the app. You need to connect the charging gun and follow the instructions provided in the app to start charging.
Step 6: Monitor and End the Session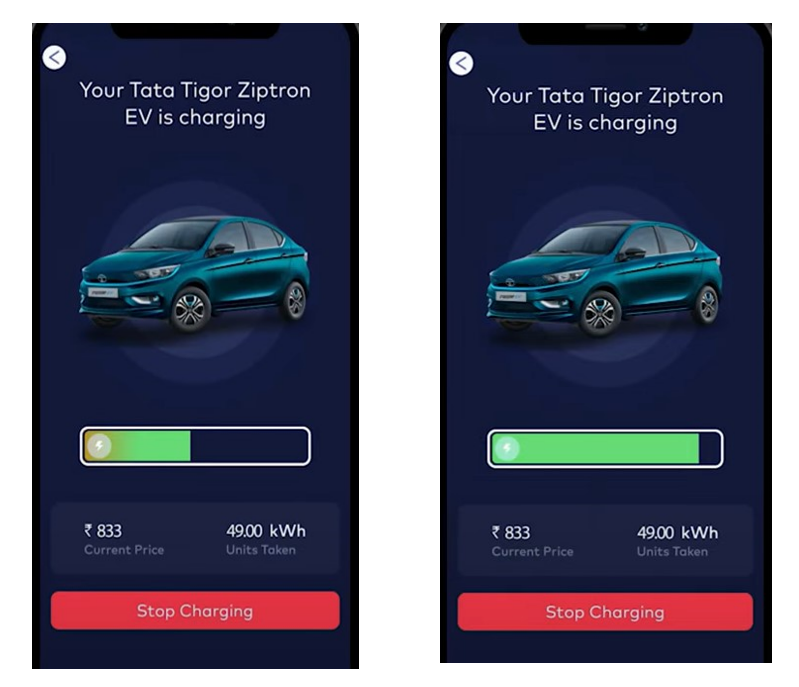 While your EV is charging, you can use the app to monitor the charging progress and receive updates. Once your EV gets fully charged or reaches the desired charge level, stop the charging session through the app.
Step 7: Pay Using Statiq Wallet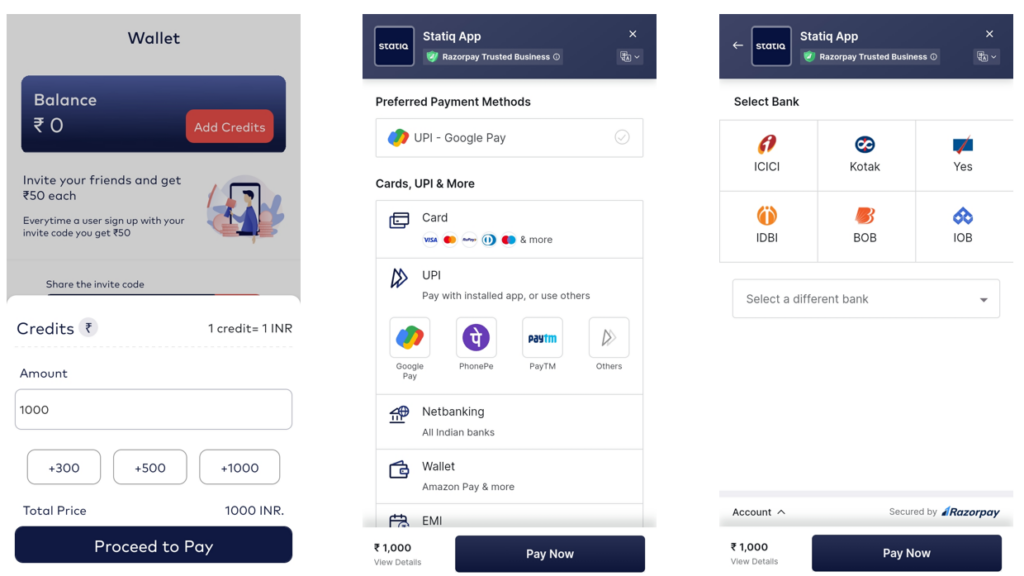 The Statiq EV charging app allows you to pay conveniently using Statiq Wallet. All you need to do is add credits to your wallet using online payment options such as UPI, credit/debit card, net banking, and mobile wallets (Amazon Pay, Freecharge, Bajaj Pay, Mobikwik, OlaMoney, JioMoney, and Airtel Payments Bank). The Statiq app also allows you to credit your wallet using an EMI facility, such as HDFC Bank.
Booking EV charging through a mobile application brings a new level of convenience and efficiency to the charging process. By utilizing these apps, EV owners can easily discover charging stations, book charging sessions, make payments, and stay updated on charging status—all from the convenience of their smartphones.
Embrace the power of the Statiq EV charging app and enjoy a hassle-free and eco-friendly charging experience for your electric vehicle. Happy charging!
Read this blog to learn, "How to Choose the Right EV Charging Station for Your Needs?"