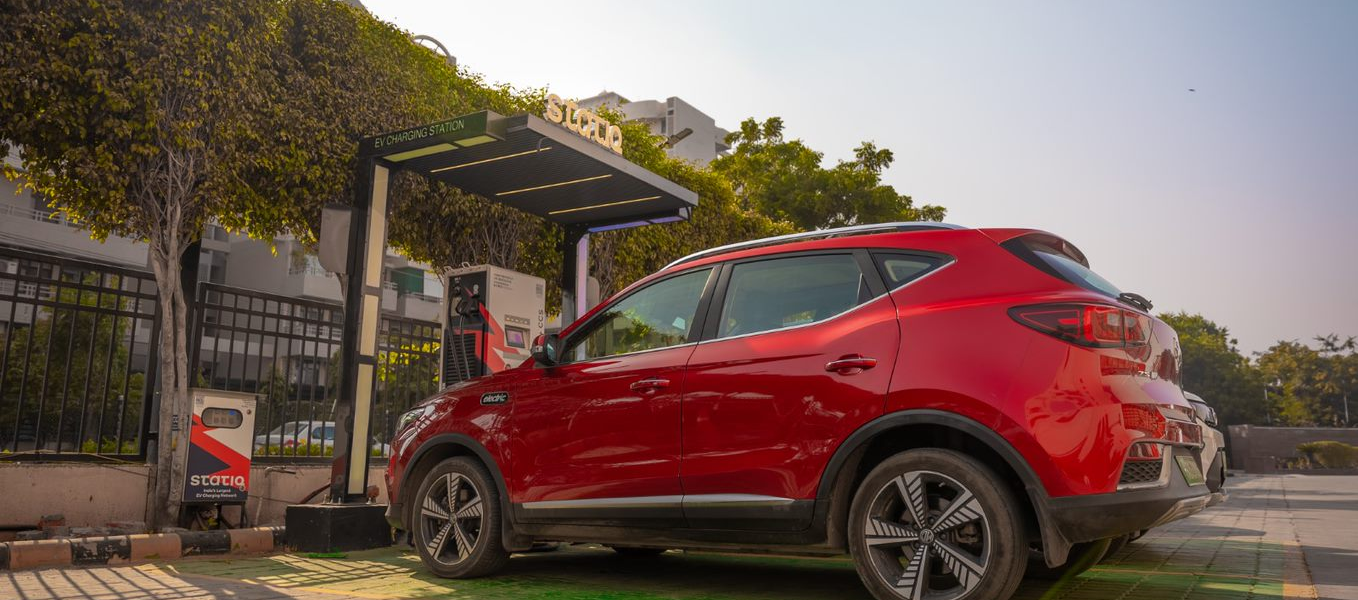 Prospects of EV Adoption in India 
India has witnessed massive growth in the electric vehicle domain in the past some years due to a surge in fuel prices and government policies to promote EV adoption. Whenever there is a rise in fuel prices or news about global warming & climate change, the EV industry is widely spoken about as a prospective solution to curb pollution generated through vehicles and promote sustainable development. 
Electric vehicle manufacturers are actively working towards EV production, with new models coming out every year. There were 48,179 EVs sold in 2020-21, which increased to 2,37,811 in 2021-22 and 4,42,901 in 2022-23 (till December). Electric vehicles have emerged as a cleaner and cost-effective alternative to internal combustion engines (ICE). The compound annual growth rate of the EV industry is expected to grow by 94.4% from 2021 to 2030.
Startups have also entered the EV market with their innovative solution towards building a strong network of EV chargers in India to enhance the overall experience of owning an EV. One such startup is Statiq, a leading EV charging service provider with a presence in more than 60 cities and has 7000+ electric vehicle charging stations in India.
The future of electric vehicles is bright due to favorable policies and tax rebates offered by the government to EV manufacturers and end consumers. This blog will highlight the prospect of the EV industry in India and the government policies to promote electric mobility in India.
Government Policies for Electric Mobility in India
People are enthusiastic about electric mobility, and so is the Indian government, which is actively strengthening the foundation towards building EVs as a trillion-dollar industry in the future. The government is encouraging electric vehicle adoption by offering subsidies to end consumers & manufacturers to build strong EV charging stations across India. 
To support the ambitious plan of achieving 30 percent EVs by 2030 Indian government has launched many plans and policies. Here are the government policies and incentives for electric vehicles:
FAME- II Scheme
The Faster Adoption and Manufacturing of Electric Vehicles (FAME) scheme was launched in April 2015 to reduce the usage of petrol and diesel automobiles and incentivize electric mobility in India. 
The FAME II scheme was introduced in April 2019 with a budget of around 10,000 crores to support 5 lakh e-three-wheelers, 7,000 electric buses, 55,000 e-passenger vehicles and 2 million e-two-wheelers. This scheme was supposed to end by 2022 but has been extended until 31 March 2024 in the 2022-23 budget.
PLI Scheme
The Production Linked Incentive for Advanced Chemistry Cell Battery Storage (PLI-ACC Scheme) was launched by the Ministry of Electronics and Information Technology in June 2021. This 2.4 billion USD worth of scheme will be a game changer for the EV industry in India.
It is one of the 13 initiatives sanctioned by the union government to achieve the goal of "Atmanirbhar Bharat." The scheme aims to reduce import dependency, increase capacity and localize the EV supply chain.  
Battery Swapping Policy
The finance minister of India has announced in a recent budget that they are planning to introduce Battery Swapping Policy that aims to standardize the battery standards to be used in EVs across India. This will be very helpful in promoting EVs in crucial services like deliveries and inter-city transportation.
Battery swapping is a more practical option for time-sensitive service sectors because it allows the users to skip on-spot charging, which may take hours. It is also a significant step to reduce electric waste and promote universal battery configuration, allowing EV owners flexibility as they don't need to think twice about configurations when swapping their batteries.
Duty Reduction on Electric Vehicles Components
The Indian government is working on reducing customs duties on Nickel ore, Nickel Oxide, Ferro Nickel, and Nickel Manganese Cobalt which are key components in the manufacturing of lithium-ion batteries. This policy will help reduce battery production costs as Nickel alloys are mostly imported.
Special E-mobility Zone
The Indian government plans to establish E-mobility zones to promote EVs in public spaces and curb traffic due to private vehicles. People moving through these zones need to own EVs or take e- public transportation. This type of policy is already prevalent in China and European countries.
State EV Policies
Numerous states have started implementing EV regulations and initiatives of the union government toward building a sustainable future. Almost 50% of the states have already implemented EV policies which include:
Financial incentives for EV purchases
Relaxation in road taxes and car registration fees
Low-interest rate loan for EV purchases
Building infrastructure for producing batteries
Conclusion 
The current government policies and plans for the EV industry will help pave the path toward building sustainable mobility in India. Electric mobility is crucial in combating air pollution and our dependency on fossil fuels. Government participation is critical in boosting EV mobility in India, which is clearly visible through subsidy programs and incentive measures. India is progressing towards building electric vehicle charging stations to improve the overall EV experience for the end users. We hope the government's initiative will enable India towards a greener future.