What's the Difference Between Level 2 AC Charging and DC Fast Charging?
There are two common types of EV charging that people use to charge their electric vehicles: Level 2 AC chargers and DC fast chargers. Level 2 AC chargers are often referred to as slow chargers because they use alternate current and take more time to charge an electric vehicle compared to DC fast chargers. But have you ever wondered what sets them apart beyond charging speed? Let's delve into the differences to help you make an informed decision.
Level 2 AC Charging
Level 2 AC charging is the most common and widely available method for charging electric vehicles, preferred by many EV owners over Fast DC charging. It is typically used for daily charging and can be installed at residences, shopping malls, corporate offices, and other public areas.
Charging Speed: Level 2 AC chargers are faster than level 1 AC chargers and can fully charge an EV in approximately 4-6 hours. While not as fast as DC fast charging, it is well-suited for overnight charging at home, work, or public parking lots.
Compatibility: Almost all electric vehicles can use Level 2 AC charging without requiring additional equipment, including 2-wheelers, 3-wheelers, and 4-wheelers.
Level 2 AC Chargers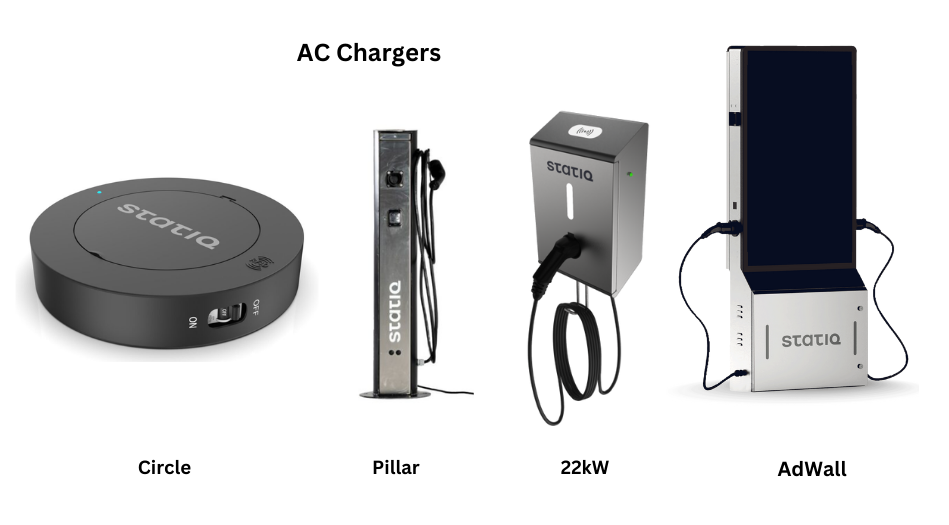 DC Fast Charging: Quick and Hassle-Free Solution
In contrast to AC chargers, a DC charger has a converter inside that directly converts the alternate current and delivers power to the EV battery, eliminating the need for an onboard charger. DC chargers are larger in size and faster than Level 2 AC chargers, making them ideal for drivers who need to quickly top up their EVs while on the road.
Charging Speed: DC fast charging delivers power directly to your EV's battery at a much higher voltage and current, resulting in significantly faster charging speeds. Depending on the charger's capacity and your EV's compatibility, a DC charger can charge your EV up to 80% in just 40 minutes, making it perfect for long road trips or quick top-ups.
Compatibility: While DC fast charging is becoming more widely available and the latest EV models are compatible with DC chargers, you should check whether your EV supports DC fast charging and explore other compatibility options.
DC Fast Chargers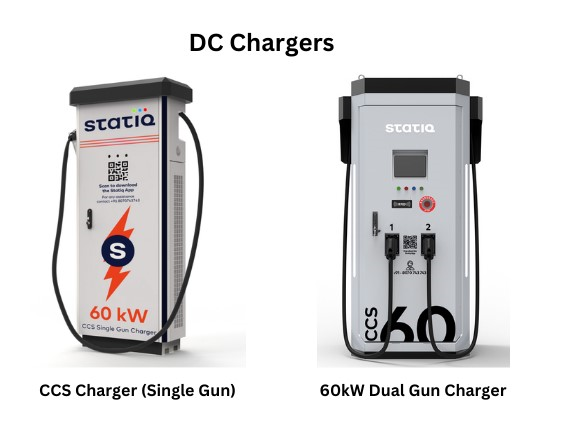 CCS Charger: This powerful DC Fast charger delivers 60kW output. It is specially designed for fast EV charging of 4-wheeler electric vehicles. It has one CCS2 connector and can charge an EV up to 80% in just 40 minutes.

Features

DC Charger with a power output of 60kW.
Auto-cut off on charging completion.
IPS 54 certified.
Start and stop your charging anywhere and anytime.

60kW Dual Gun: This 60kW dual gun DC charger gives a power output of 60kW. It has two CCS-2 connectors and can charge two electric 4-wheelers at a time.

Features

Enables the simultaneous charging of two vehicles with a dynamic load-sharing mode, providing an output power of either 60 kW or 30 kW.
Convenient indicator for charging status.
Auto-cut off on charging completion.
Which EV Charging Should You Choose?
The choice between Level 2 AC charging and DC fast charging depends on your specific needs and driving habits. If you primarily use your EV for daily commuting and have the convenience of charging at home or work, Level 2 AC charging is likely the best fit. It's cost-effective and provides a steady charge that meets most people's daily needs.
On the other hand, if you frequently embark on long journeys or find yourself needing to charge quickly while on the road, DC fast charging is the way to go. It offers the convenience of rapid charging that can get you back on the road in no time.
Both Level 2 AC charging and DC fast charging play crucial roles in the electric vehicle ecosystem. The choice between them depends on your lifestyle and how you use your EV. As electric vehicle infrastructure continues to expand, more options will become available, making it easier than ever to enjoy the benefits of electric mobility.
Also Read, Will Wireless EV Charging Be A Game-changer In The EV Industry?