How Residencies Can Take Advantage of EV Charging Stations
As the world moves towards cleaner and greener mobility options, electric vehicles (EVs) have emerged as sustainable transportation solutions that can be utilized to build a future of transportation. Residents all across the world are actively embracing this EV revolution.
India is actively proceeding towards a $5 trillion economy, and the EV industry will play a pivotal role in achieving the goal. More than 1 Million EVs were sold in India in 2022, marking a 154% annual growth rate. As per the Economic Times, "The domestic electric vehicle (EV) market is expected to grow at a compound annual growth rate (CAGR) of 49 percent between 2022 and 2030 and is expected to hit one crore units of annual sales by 2030."
Due to a surge in electric vehicle sales, residents are now looking for EV charging stations as an amenity.
"With growing awareness, demand, too, is catching up. One in five prospective buyers was asking for charging provisions as an amenity"—Ritesh Mehta, Head Residential Property Sales, JLL India.
As India is actively proceeding towards sustainable transportation, the government is providing subsidies and other benefits for installing EV charging stations. Many prominent residential societies have already installed EV charging stations on their premises, such as Prestige Group, Nexus Group, DLF, GMR Group, No Brokerhood, JMD, Mahindra Lifespaces, and Unitech.
In this blog post, we will explore the significance of EV charging stations in a residential society and how you can install Statiq EV charging stations in your society.
Why Residencies Need EV Charging Stations
Increasing popularity of electric vehicles: As electric vehicles become more popular, the demand for charging infrastructure is also rising. Many residents are transitioning from conventional gasoline vehicles to electric vehicles to reduce emissions and take advantage of the cost savings associated with EVs. Installing charging stations in residences accommodates this growing trend and encourages more residents to adopt electric vehicles.
Convenience and Accessibility: Installing EV charging stations in residences provides convenience for EV owners. They can charge their vehicles overnight or during periods of inactivity, ensuring their EVs are ready for use at any time. Having charging stations in residences eliminates the need for EV owners to rely solely on public charging infrastructure, adding convenience and peace of mind. This eliminates the need to search for available public charging stations, wait in line, or pay for charging services outside of their residence.
Promoting EV Adoption: By installing EV charging stations, residencies actively encourage and support the adoption of electric vehicles. The presence of charging infrastructure signals a commitment to sustainability and sends a positive message to residents, inspiring them to consider EV ownership. It also attracts potential residents who already own or plan to purchase EVs, enhancing the desirability of the residency.
Long-term cost savings: For residents who own electric vehicles, having access to charging stations at home can result in long-term cost savings. Charging at home is generally more affordable than using public charging stations, especially if the residence offers a lower electricity rate during off-peak hours. By providing EV charging stations, residencies enable their residents to take advantage of cost-effective and convenient charging options.
Benefits of Installing EV Charging Stations in Society
Growth Prospects: The installation of EV charging stations opens up new opportunities for economic growth and job creation. The electric vehicle industry is expanding rapidly, and residencies that provide charging infrastructure can attract EV-related businesses and investments. This growth can lead to increased employment opportunities and stimulate local economies.
Business Aspect: Installing EV charging stations can be a revenue-generating opportunity for residencies. Charging station operators can offer charging services to residents and the public, generating income through charging fees. This additional revenue stream can help offset the initial investment and maintenance costs associated with EV charging infrastructure.
Contributing to the Environment and Enhancing Society's Value: By installing EV charging stations, residencies actively contribute to reducing emissions and improving air quality. This collective effort leads to a cleaner and healthier environment for residents. The presence of charging stations also enhances the value of the residency, as it aligns with the increasing demand for sustainable living options and promotes a forward-thinking and eco-friendly image.
Future-proofing the property: By installing EV charging infrastructure, residencies prepare themselves for the future. As governments worldwide introduce stricter emission regulations and incentives for electric vehicles, the demand for charging stations will continue to rise. Being ahead of the curve and having charging stations in place positions the residency for the increasing number of electric vehicles in the coming years.
Get Statiq EV Chargers Installed in Your Society at ZERO Cost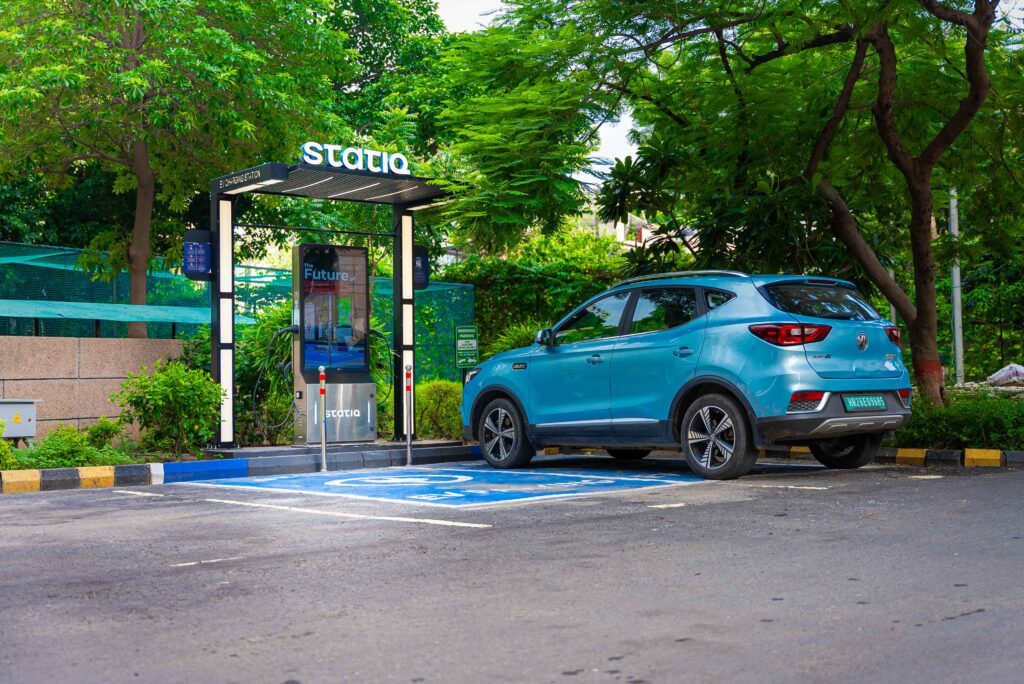 The installation of EV charging stations in residences brings numerous benefits. It not only provides convenience and accessibility for EV owners but also supports the growth of the electric vehicle industry and stimulates local economies.
Statiq is one of the pioneers in the EV charging industry, building a world-class network of electric vehicle charging stations across the country. After making numerous societies (DLF, DASNAC, Supertech, Prestige Group, Gaurs, MAPSIKO) EV-friendly, Statiq is expanding its EV charging network across India.
#StayCharged In 3 Steps
You can get EV chargers installed in your residential society at ZERO COST! Just follow these 3 steps:
Step 1: Click on the link: https://www.statiq.in/partner-with-us and fill out the request form with your details. Our executives will contact you within 24 hours once the request form is submitted.
Step 2: Our EV charging solution expert will inspect the area, check feasibility, and the agreement will be signed between RWA and Statiq after finalizing the location.
Step 3: Post-agreement, EV chargers will be installed in your society, and your site will go live within 15–20 days.
Congratulations! Statiq EV chargers are ready to ease your range anxiety. Happy Charging!