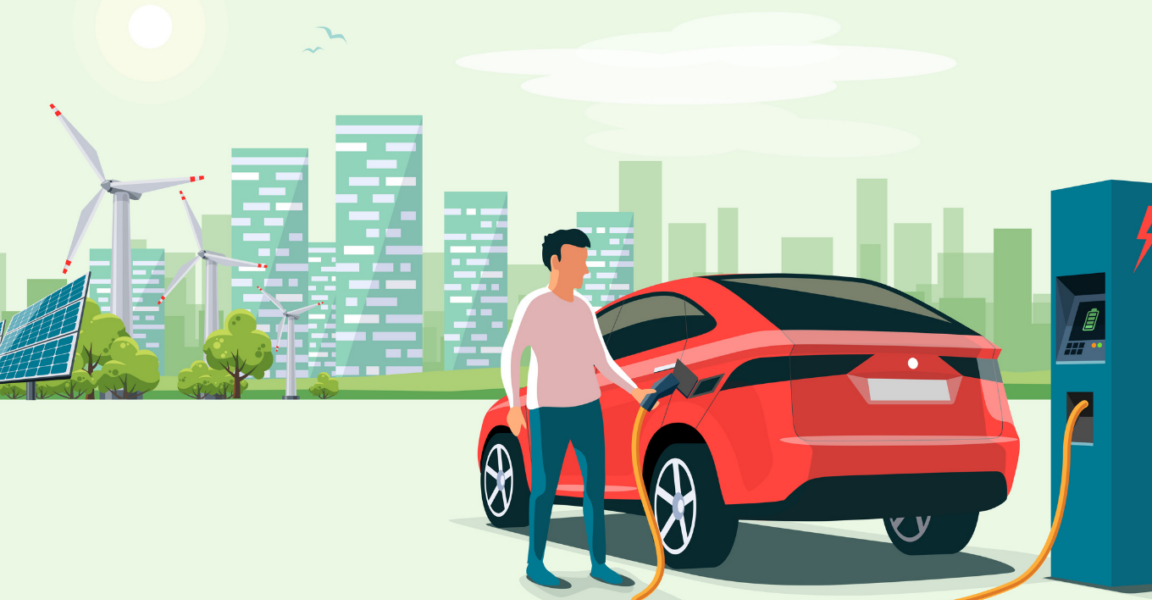 Five Strategies to Accelerate Electric Vehicle Adoption in India 
India is one of the fastest growing economies and has shown a strong linkage between growth in vehicular population and the income of households. Over the years, various studies have been conducted to establish a relationship between income and the purchase of vehicles (In 1995, Geene et Al explained as per capita income increases, people travel more by private vehicles.
In 2007, a study by Dargay et al showed a positive relationship between per capita income and vehicle ownership; Kumar and Krishna Rao conducted a study that shows how car ownership rises with household income). Further, according to our research and analysis, the per capita income in India is highly correlated with vehicles per 1000 people and the total number of cars sold with a correlation coefficient of (0.99) and (0.95) respectively.
The strong relationship established above can be particularly observed in middle-income households that account for half of the total households in our country and are investing in private vehicles (both two-wheelers and cars). Despite this market trend, we can observe that the majority of the households in our country are still very hesitant to switch to electric vehicles (EVs) due to various demand and supply side constraints.
The few demand-side constraints include the high upfront cost of the vehicle, range anxiety, lack of resale value, and long recharge time, whereas, on the other hand, a few supply-side constraints are the lack of electric vehicle charging stations, high cost associated with the installation of EV charging infrastructure, and high cost of commercial electricity.
In this article, we talk about the five major strategies that India needs to introduce to accelerate the adoption of electric vehicles and make them equitably accessible and affordable for its people.
Government Support
Government support plays an important role in the transformation of the EV market. Recently, the Indian Government slashed the GST on electric vehicles from 18% to 5%, which was a great move for the industry. Additionally, there is a need to introduce various financial, regulatory, and convenience incentives to increase EV uptake.
Some of these incentives include the following: offering vehicle tax breaks for electric vehicles, exemption from road pricing charges and road tolls, introducing scrappage policies & schemes for ICE vehicles and retrofitting of the same, free public parking and priority parking for EVs, targeted additional incentives for low-medium income households for buying EVs with the ability to stack incentives, subsidies on both old and new EVs and others.
Focus on Customer Education
With the recent fire incidents happening in the EV sector, creating awareness and visibility for EVs is an important step to overcoming various challenges in the industry. It is very important to educate customers about the benefits of electric vehicles.
All the stakeholders in the industry should actively promote and advertise EVs on their platforms. The Government of India should launch pilot programs for electric mobility across national highways to increase awareness. Additionally, launching educational workshops and campaigns across different media is extremely important to clear any doubts and fears related to electric vehicles.
Support Localisation
Currently, the majority of the components like battery cells, controllers, and other components are manufactured abroad, which increases the overall price in the EV ecosystem. India being a price-sensitive market, it is important for the government to support localization and adopt a phased approach towards it.
Strong Financing Mechanism
The cumulative capital cost involved in India's EV transition will amount to USD 266 billion between 2020 to 2030. The government, financial institutions, and the EV sector need to adopt a strong financing mechanism focusing on instruments like priority sector lending, product guarantees, risk sharing mechanism (government and multilateral led), and secondary market development.
Encourage Fleets to move to EVs
Electrifying city fleets is an important step in accelerating the EV market. Since the majority of the low-medium income households in our country depend on public fleets and buses, the Indian government needs to enable and incentivize zero-emission fleets. It is important to learn lessons from cities like Auckland and London that are committed to procuring only zero-emission buses and making black cabs fully zero emission respectively.
In addition to the above five strategies, the government should also focus on EV car-sharing programs, creating awareness regarding leasing schemes for electric vehicles, promoting electric mobility through events and programs that focus on providing test drives for EVs, and electrifying public transport buses. All the above strategies will play a crucial role in the adoption of EVs not only the moderate-income communities but will also cater to lower-income communities.