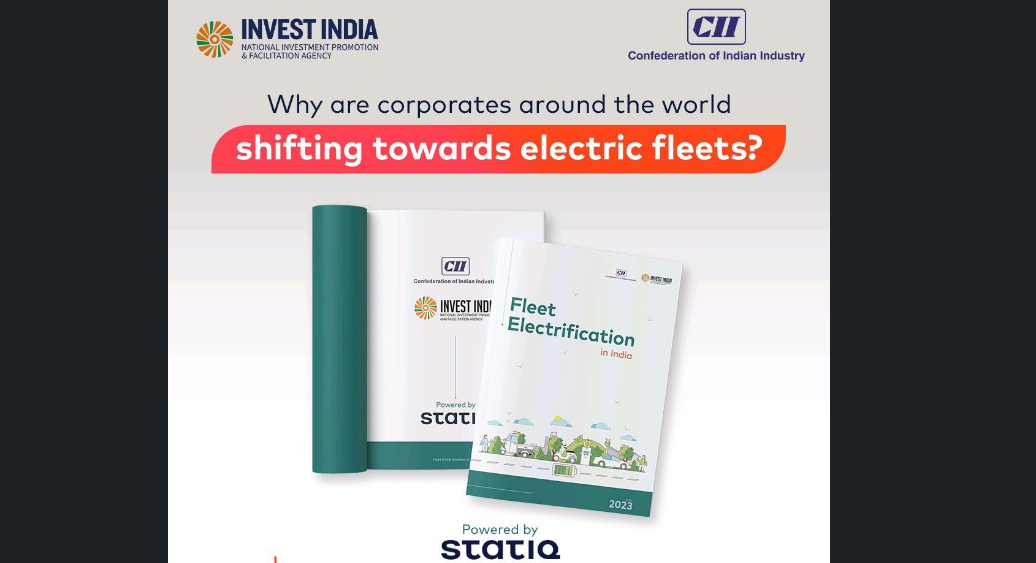 Statiq Releases a Fleet Electrification Report in India 
Statiq has recently worked with the Confederation of Indian Industry and Invest India on "Fleet Electrification in India", a report that studies various challenges faced by fleet operators and how fleet electrification can contribute towards achieving a net zero economy by 2070. It includes-
The scope of fleet electrification in India and benchmarking with countries across the globe
Existing business models in the fleet electrification and charging space (includes case studies).
Initiatives by the government to strengthen electric fleets and FDI opportunities in fleet electrification.
Insightful views of various stakeholders including fleet operators, CPOs, OEMs, and E-commerce businesses.
Recommended measures for scaling fleet electrification in India.
What makes this Report Important for the Indian EV industry?
The transportation industry relies heavily on fleets to carry out a wide range of operations, from delivering goods to transporting people. These fleets contribute significantly to global greenhouse gas emissions and climate change. The electrification of fleets will play a key role in achieving a net zero economy by 2070.
Why Fleets Across the World are Shifting to Electric Vehicles?
Corporates nowadays pay a lot of attention to environmental, social and governance issues and focus a lot on their sustainability targets. Sustainability in business has come a long way, it has evolved into a strategic concern driven by market forces.  
Today, businesses develop sustainability strategies, market sustainable products and publish sustainability reports for consumers, investors, activists, and general public. Therefore, a lot of big companies have announced targets to completely shift to electric mobility as a part of their sustainability goals. 
Scope of Fleet Charging in India
Due to increased charging infrastructure and 100% FDI, the scope of fleet charging in India is expanding quickly. In India, there are three forms of EV charging infrastructure:
The government-driven model
The private sector-driven model
The public-private partnership model
The government intends to introduce battery replacement in the three-wheeled vehicle and bus categories to decouple battery costs from vehicle costs and facilitate the use of electric cars in India.
To boost EV infrastructure in India, the government has clarified that operating EV charging stations does not require a license and has issued a policy on charging infrastructure to enable faster adoption of EVs.
The Indian EV market is expected to expand at a compounded annual growth rate (CAGR) of 49% between 2021-2030, with the segment's volumes set to cross annual sales of $43 billion by FY30.
According to KPMG, the growth potential for the charging industry is 15-20% in the two-wheeler market. By FY30, India's total electric vehicle fleet is expected to reach five million units.
Advantages of FDI Towards Fleet Electrification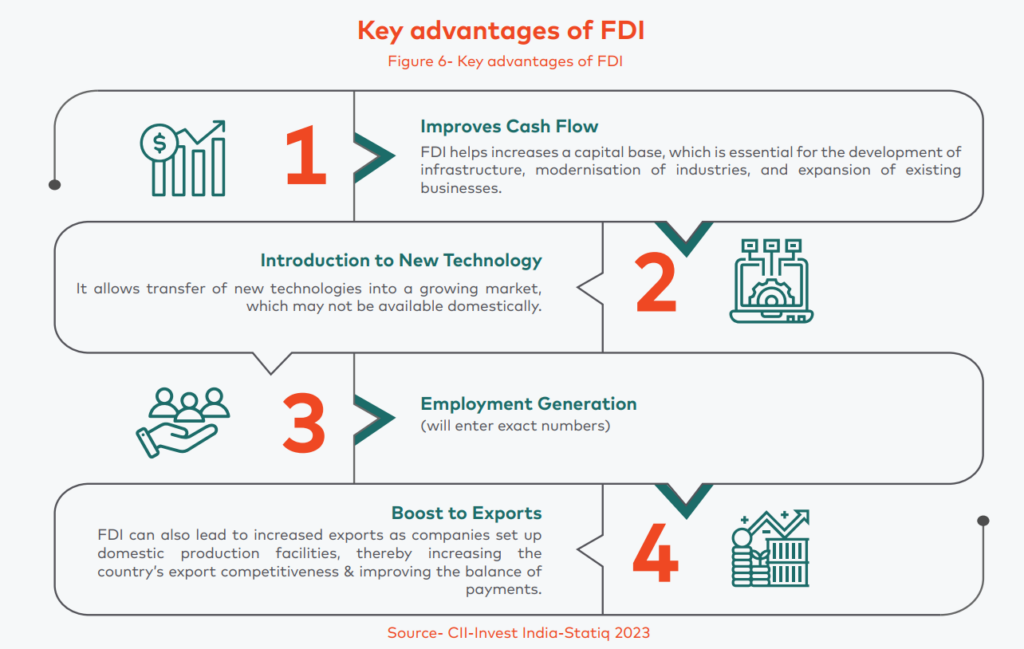 Challenges and Possible Solutions from Stakeholders' Perspective
A workshop was conducted in February 2023 by Statiq, CII, and Invest India with key industry stakeholders including (OEMs, fleet operators, e-commerce players, last-mile delivery providers, and CPOs.) The workshop helped in gaining a better understanding of the challenges and potential solutions from stakeholders' perspectives.
Here are some excerpts from the report—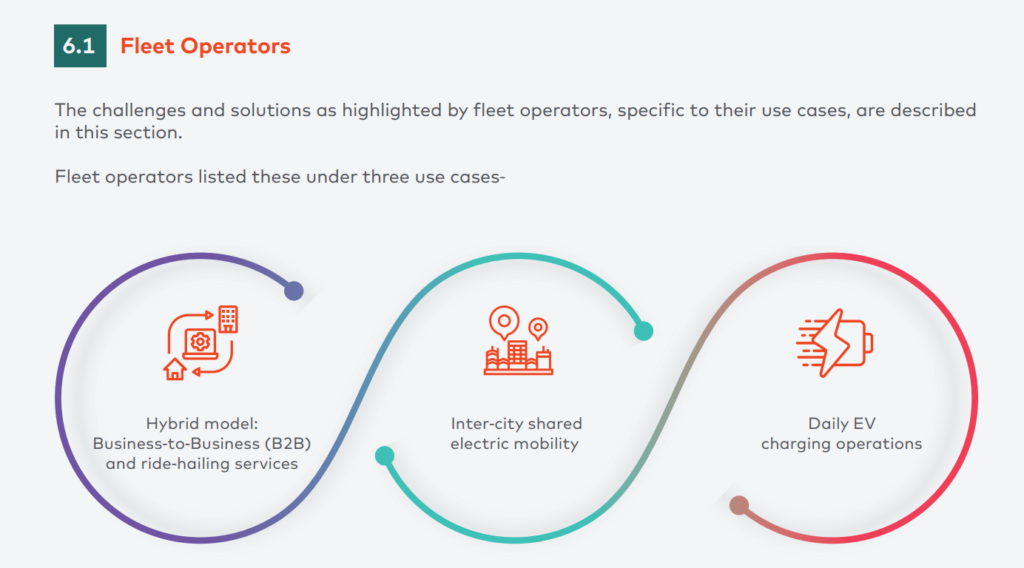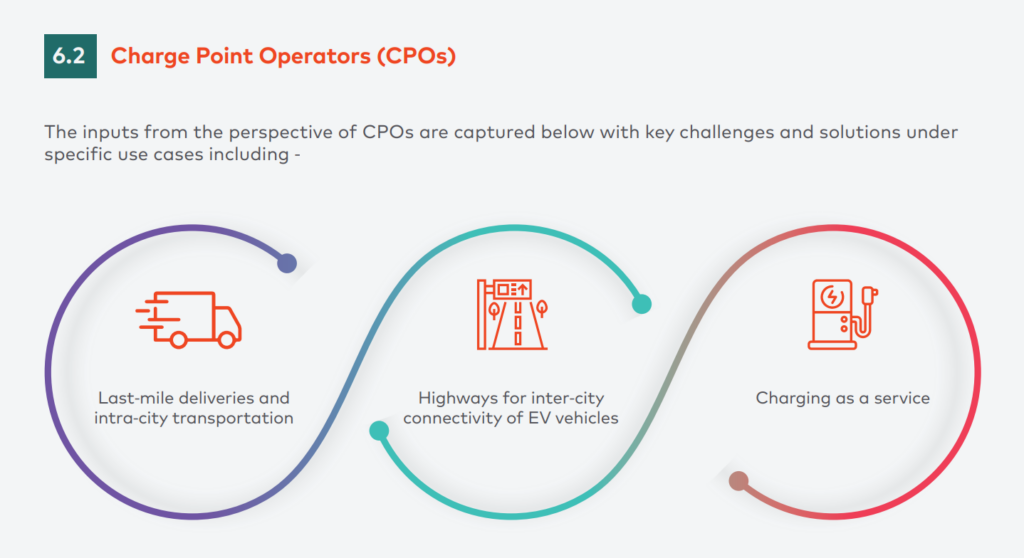 Overall, this report will help you understand the key challenges and the possible solutions to address them. Download to read this report to know how to accelerate the pace of fleet electrification in India. 
Also Read, The Integration of Renewable Energy Sources with EV Charging: Opportunities and Challenges